Some vehicle repairs can easily be researched so that you can make the repairs yourself. This can be helpful when you need to save money; however, transmission repairs are not one of these repairs that should be a DIY job. There are several reasons why you should get professional transmission repair in Newcastle rather than attempting the job yourself. Here's what you need to know.
Experience
One of the biggest arguments against trying to repair your transmission yourself is the fact that professionals have far more training and experience, whereas someone without that training is more likely to run into major problems during the repair.
It can be frustrating, costly, and time consuming to get partway into the transmission repair and then realize the job is far too complicated to be a DIY job. This happens frequently when vehicle owners attempt the repair themselves, which makes it more complicated trying to get the professional help you need.
This happens because a transmission must be fully dismantled and removed from the vehicle in order to be repaired, so if a DIY repair runs into trouble, it's not a simple task to get your vehicle in to an AAMCO Boardman transmission repair shop.
When You Need Transmission Repair, Go to the Best
Our technicians have helped repair and maintain millions of vehicles; this tradition of excellent service has earned us our reputation as the best transmission service experts in the country.
Tools
Another problem with attempting transmission repair yourself is having the necessary tools for the job. Transmission repair requires special wrenches and sockets that require additional training in order to be used correctly. While you can certainly spend the time learning how to use these tools, you're likely going to spend hundreds or even thousands of dollars on tools that might not ultimately result in a repaired transmission.
Additionally, it's unlikely that you'll ever use the tools again, so it's best to save the money for tools and invest it in a quality, professional repair job instead.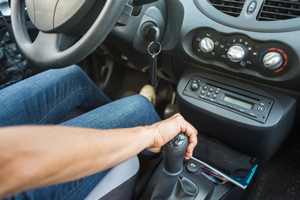 Electronics
Vehicles these days have electronic, computer, and chip systems that help run all the mechanics of the car. This is true of the transmission as well. If you don't know much about electronic systems in vehicles it's best to just stay away from a DIY repair that could cause problems with the system. Some transmission repairs may require modifications or repairs to the electronic or chip components of the transmission so they can quickly become complicated.
Time and Money Investment
The rationale behind most people doing DIY of any type is to save money. Transmission repairs are one of the more expensive vehicle repairs, but that's for good reason. It takes a lot of time and expertise to repair or rebuild a transmission.
When you consider the tools, parts, and time you'll need to invest in to get the transmission repaired properly, you're much better off investing that money into a professional who can get the job done more quickly and get it done right the first time. Inadequate DIY repair jobs often lead to further transmission damage that a professional has to fix as well.
No Guarantee
The last danger of DIY transmission repair is the fact that you can't guarantee how many years or miles the transmission will continue to run. Most repair shops offer some sort of warranty or guarantee on a rebuilt or repaired transmission so that you can expect more mileage out of it. If a problem does come up, you can take your car directly back to the shop for repair with no worries about cost.
AAMCO Can Help Your With All Your CVT Repair Needs
Whether it's time for regular transmission maintenance or you suspect transmission damage, our technicians at AAMCO Boardman are transmission experts. We can pinpoint which part of your transmission needs servicing and help prevent more serious transmission repairs. If you suspect any transmission issues, be sure to look up "Transmission repair near me". We are here to help, call AAMCO Transmission & Total Car Care today at (330) 729-9980.