Fleet Repair Services
Locally Owned Transmission and Total Car Care Auto Shop
---
Are you looking for consistently amazing service on a regular basis for your company's fleet of vehicles? Trust in AAMCO, we offer a complete range of vehicle repair services to get your cars or trucks back in operation!
At AAMCO, Customer Care Comes first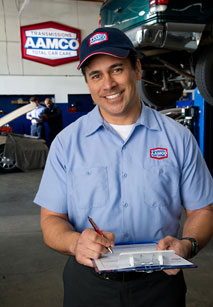 For nearly 50 years, AAMCO has repaired the most complicated system in any vehicle, the transmission and we are still the world's largest transmission specialist; but our experience makes us the most trusted name for any repair or service need for your fleet vehicles. Only AAMCO can provide the resources and knowledge to solve your fleet's transmission problems from coast to coast. AAMCO's National Fleet Program can help you control costs, get your vehicles serviced more quickly, keep them on the road longer, and offer the peace of mind of a nationwide warranty.