Transmission Repairs in Boardman, OH
Locally Owned Transmission and Total Car Care Auto Shop
---
Have you been dealing with a transmission problem for some time? Are you unsure about the extent of the problem with your transmission? While transmission problems are no doubt one of the most serious issues that can affect a vehicle, they often require only minor repairs or adjustments to resolve.
Complete Transmission Repair and Rebuilding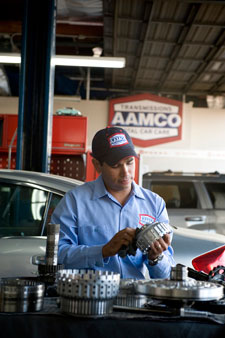 For expert transmission repair and rebuilding, trust AAMCO in Boardman, Ohio. Our Total Car Care Center guarantees our transmission services with the Best Nationwide Warranty available. Our auto service experts in Boardman, OH, start their evaluation of your transmission with the Initial Vehicle Check (IVC), a thorough, multi-point inspection that can pinpoint your transmission problems. If your car's transmission issues can be resolved with a simple fluid change or the AAMCO Power Purge® service, that's what we'll recommend. We promise to repair only what needs fixing and never anything more; that's just one reason why AAMCO has been the most trusted name in quality, affordable transmission services and repairs for over 50 years.
Need CVT Transmission Services?
Visit our expert mechanics at an AAMCO service center.
We will ensure your vehicle is running smoothly, efficiently and safely.
Once this initial evaluation is complete, we will place your vehicle on a lift and inspect the external components of the transmission. We will evaluate:
Shift linkage or cable.
Vacuum connections.
TV/detent cable/linkage.
Harness connections.
Ground connections.
Engine mounts.
Axles and shafts.
U-Joints or CV joints.
Fluid retention.
Pan gasket.
Wire condition.
Once this thorough evaluation is complete, your AAMCO technician will recommend the repairs your transmission needs. However, if this initial evaluation doesn't turn up the cause of your transmission problems, we will use our state-of-the-art diagnostic technology and equipment to pinpoint the problem.
New vehicles are especially dependent on their computer systems, which is why advanced computer and internal diagnostics are essential for determining the cause of a problem. At AAMCO, our skilled technicians can isolate the problem so you're not paying for unnecessary repairs. AAMCO Computer Vehicle Courtesy Check can determine if an electrical component is affecting your transmission's shifting ability or overall performance. Using a computer system scanner, your technician will be able to retrieve potential trouble codes, check all critical systems, and compare your system data with the data in our technical database. Your AAMCO technician can find out whether the problem is in your transmission or elsewhere. Finally, your technician will recommend specific repairs and replacements, as needed.
It is because of this thorough approach using state-of-the-art diagnostics that we can pinpoint the exact cause of your transmission problem and repair only that problem, saving you time and money. In fact, more than half the vehicles we service only require a minor repair. Other repair shops can't say the same. Come to AAMCO Transmissions and Car Care Boardman, OH to expect honest, thorough, and skilled service every time.
Transmission Rebuild Services
At AAMCO Boardman, when we rebuild your transmission, you'll know it's been done right because our on-site expert technicians always rebuild transmissions using the original unit. Following an in-depth transmission check, our mechanics disassemble the transmission, thoroughly clean and inspect the internal and external components, rebuild it with quality parts, and reinstall the transmission. Then we refill the fluid, make any external adjustments, and do a road test to ensure everything is working smoothly.
Does your vehicle have a manual transmission? Our Transmission Initial Vehicle Check (IVC) will help isolate the problem with your clutch. This allows us to fix the problem right away. Our certified repairmen will:
Remove your vehicle's transmission.
Inspect the clutch disc, pressure plate, flywheel, and related components.
Replace any required components to meet AAMCO's exacting standards.
Reinstall the transmission.
Top off the transmission with fresh, clean fluid.
Perform a lift check to ensure proper clutch performance and adjustment.
Perform a road test to ensure everything works smoothly
Extend the life of your vehicle with expert transmission services from AAMCO Boardman.