No matter what car trouble you're dealing with, it's frustrating when your car just isn't acting right. Transmission failure is one of the most dreaded auto repairs you may encounter as a car owner – and rightly so. Any transmission repair is no laughing matter but if you reach the point of transmission failure and your transmission blows out, it's bad for both you and your car. Look out for these signs your transmission is about to go out – or already has.
1. Difficulty Shifting Into & Out of Gear
One of the most commonly experienced signs of transmission trouble is difficulty shifting in and out of gear. In
particular, you're likely to first notice this when shifting in and out of Reverse, though it can become a problem with other gears as well. The good news is that you may just need new transmission fluid. Having old or low transmission fluid – or the wrong type of transmission fluid – can make it difficult to shift gears and is an easy fix. However, even if you're just dealing with a transmission fluid problem, it's best to have it fixed by a mechanic as soon as possible to avoid more serious transmission repairs.
2. Slipping Gears
Similarly, you may experience slipping gears, which feel like a sudden lack of power or revving of your engine. This is when your car is meant to be in a certain gear but "slips" back out of that gear due to a malfunctioning part in your transmission. When this happens, it will slip up or down a gear, causing a noticeable shift in power while you're driving. This is not only a sign of transmission trouble, but it can also be a safety risk on the road because your car is acting unpredictable. It's best to get your car to a transmission repair shop as soon as possible when you notice your gears slipping.
3. Grinding or Shaking When Shifting Gears
Anytime you hear grinding while driving, it's cause for alarm. Whether your brakes are grinding or you hear grinding when shifting gears, it's a sign there's an urgent auto repair that needs to be addressed. This symptom is more common in automatic transmission cars, though your gears may grind or make abnormal sounds when shifting a manual transmission, too. While it's possible you may just need new transmission fluid, even that can escalate into bigger car problems. In any case, you should make an appointment with a mechanic at a transmission repair shop as soon as possible to help prevent full transmission failure.
4. No Response When Trying to Shift Gears
Your transmission's job is to shift your car to the proper gear and keep it there so that appropriate power is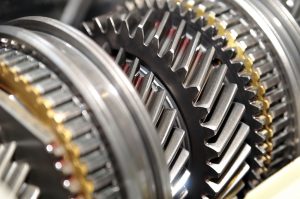 transferred to the drivetrain and wheels. If nothing happens when you try to shift gears, it's a big warning sign that you have an urgent transmission repair. In an automatic transmission, this may involve trying to shift from Park to Drive. With manual transmissions, you're most likely to notice this first when shifting from neutral to first gear. Regardless, you should have your car towed to a transmission repair shop to have your transmission inspected.
5. A Burning Smell While You're Driving
Smelling burning while driving is never a good sign. More specifically, it's a good indication that some part of your car is overheating. If you've been braking heavily, it could be your brakes. However, if you're driving normally and smell burning, it points to your engine or transmission. Because these systems work so closely together, if one is overheating, the other likely is too. This could be because of old, dirty, or low transmission fluid, which is an easy fix. However, if this is your problem, it should be addressed sooner rather than later.
Visit Your Local AAMCO Boardman's Transmission Technicians
If you need a Boardman, OH transmission shop you can trust, look no further than your local AAMCO in Boardman, OH. Our transmission experts are here to help with any auto repairs you need, from regular car maintenance to more major transmission repair services. We'll get you back on the road with a transmission that won't fail you. Give us a call or easily schedule an appointment online!