Before any car repair service, it's important to know what you're getting into, especially if you're headed to a new mechanic. You may come prepared with a few questions of your own but we have some suggestions that should cover the process from start to finish. The more you know before you drop your car off for a vehicle courtesy check, the more comfortable you'll be and the smoother the process may go. Plus, if you've had negative experiences with auto repair shops in the past, this is your chance to get a feel for a new auto repair shop to figure out if it feels like a good fit.
1. What Types of Cars Are You Trained to Work On?
Whether you have a specialty car or not, you want to feel confident that your mechanic knows what they're doing when they run diagnostics and complete repairs. Electric cars operate differently and require different maintenance services than fuel-powered cars. Likewise, different types of transmissions involve different parts, maintenance, and possible repairs. Having a mechanic who understands what your car may need is essential.
When you come to your local AAMCO, you can feel confident that our mechanics will handle your car well. With extensive experience, varied areas of expertise, and top-notch tools, our mechanics will be able to diagnose and handle any necessary auto repair service.
2. How Much Do Car Diagnostics Cost?
Even before the auto repair costs, sometimes diagnostics alone can take a chunk of your money. Depending on your auto repair shop, they may have varying prices and conditions for having car repairs diagnosed. Some may charge for diagnostics regardless, while others charge only if you don't have the repairs done by them. In any case, you want to know what you're getting into before you leave your car behind.
Whenever you bring your car to AAMCO, you don't have to worry about paying for our vehicle courtesy check. We include a complimentary multi-point inspection with each service, whether car maintenance or auto repairs. Not only will your car be well taken care of, but you also won't have to pay a penny for the vehicle courtesy check.
3. How Are Necessary Auto Repair Services Communicated?
If you've ever been caught off guard by auto repair pricing or the services being done on your car, you know it's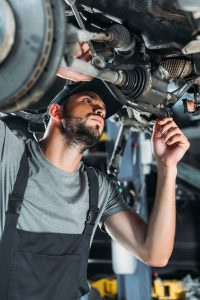 not fun. Whether you're going to a new auto repair shop or back to a mechanic you trust, it's important to have a clear idea of how diagnostics will be communicated, as well as any hiccups that may happen during the auto repair process.
AAMCO's mechanics value open communication when it comes to your car's needs. Whether you're asking a question about necessary car maintenance or have auto repairs in process, you'll receive open and clear communication throughout the process. We'll never proceed with repair services before consulting you and discussing options.
4. Do You Offer Any Options for Financing?
Let's face it, car repairs are expensive. Even the affordable ones are not cheap, so when a major auto repair becomes necessary, it can be stressful. While paying the money to fix your car may be unavoidable, your mechanic may have ways to help alleviate the financial stress by spreading out payments without interest or even prioritizing which repairs are urgent and which can wait.
If you have urgent and expensive repairs, AAMCO offers financing options to make it easier to pay for your auto repairs without breaking the bank. Depending on how much you're charging and your overall financial situation, you could have a number of months to pay off your repairs without interest.
5. What Happens if My Auto Repairs Take Longer than Expected?
When you get a timeline for your auto repair to completed, you want your mechanic to stick to it as much as possible. Things happen and sometimes more problems come up while your mechanic is working on your car, but that shouldn't feel like the norm at your auto repair shop. Before dropping off your car or giving permission for any auto repairs, you should ask for a clear answer about what to expect for a timeline as well as communication if things change.
You'll always know where your car stands when you drop it off at your local AAMCO. We'll set clear expectations for how long your auto repair service or car maintenance should take and you'll be the first to know if that changes.
AAMCO Boardman's Mechanics Offer Efficient Auto Repair Services
No matter what your car needs, you can trust AAMCO Boardman mechanics with the job. Regular car maintenance services are a breeze and we'll accurately diagnose any necessary car repairs so that you can feel safe on the road again. We value our customer relationships, so you can expect clear communication and straightforward services every time you visit our auto repair shops.